Re-Cover, Don't Re-Roof Near Lexington, Charleston, Georgetown & Johnson City
Just recycle your roof with GacoFlex Roof Coatings!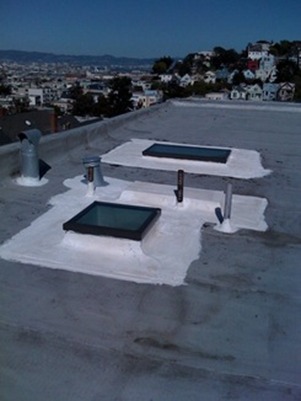 Recycled roof using GacoFlex Roof Coating.
If you have a roof that's in bad shape, typical re-roofing can be messy, time consuming, and expensive. With GacoFlex S-20, you don't have to re-roof...by re-covering your existing roof, you will save in tear-off costs, disposal costs, and the material costs associated with rebuilding the roof structure.
Seamless Waterproofing: A GacoFlex roof not only withstands ponding water, but it has no seams, gaps, ridges or overlaps for water to infiltrate and threaten the integrity of your building.
Re-covering is both GREEN and ECONOMICAL: Eliminate the labor cost and landfill expenses by using GacoFlex roof coatings rather than needlessly tearing off and replacing your old one. Plus, GacoFlex coatings extend the life expectancy of your roof, reducing your long-term expenses.
Warranty: Unlike traditional roof products, GacoFlex roof coatings don't chalk or break down, so you can have peace of mind with up to a 20-year warranty.
Looking for a price? Get a no cost, no obligation free estimate.