Attic Insulation Contractor in Charleston, Lexington & Johnson City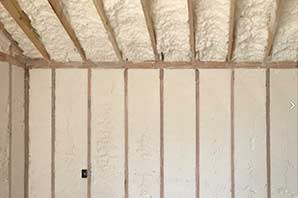 Benefits of Our Attic Insulation Services
Variety of attic insulation materials: spray foam, cellulose and the SuperAttic® system.
Expert installation by certified energy experts.
Free insulation inspections & estimates.
Blower door tests to identify air leaks.
Improve home comfort and reduce heating & cooling costs by as much as 40%.
Your Local Expert for Upgrading & Installing Attic Insulation
High utility bills and rooms that are too hot in the summer and too cold in the winter are just a few signs that your attic may not be properly insulated. Upgrading attic insulation is a simple, cost-effective way to improve comfort. Having adequate attic insulation can also cut heating and cooling costs by as much as 40 percent.
When you contact Reed's Sprayfoam Insulation for an insulation estimate, we will inspect insulation levels and determine the best insulation solution based on your home's design and your specific needs. We have the experience and tools to install many different insulation materials, including spray foam, blown-in, cellulose and more.
Common Indicators of Poor Attic Insulation
Rooms located below the attic get too hot or too cold, even when other parts of the house remain comfortable.
High electric bills and/or high costs for heating fuel.
Cold drafts during wintertime.
Recessed "can" lights in the ceiling directly below the attic.
Attic floor joists can be seen above or between existing attic insulation.
Less than 10 in. of existing attic insulation.
Ductwork in attic is exposed above insulation.
Seal Air Leaks & Add Insulation for an Energy Upgrade That Pays For Itself
Don't Forget to Seal Leaks!
Sealing air leaks and adding insulation can help:
Increase Overall Comfort
Reduce Outside Noise
Improve Humidity Control
Lessen the Demand on Your HVAC System
Improve Indoor Air Quality
The attic is typically the biggest source of energy loss in a home. Installing the right amount of insulation and sealing air leaks can make a big difference in your energy bills and comfort.
Insulation levels and thermal performance are measured by R-Value. The higher the R-value, the better the insulation's ability to resist heat flow.
Many homes have as little as 9 in. of attic insulation in regions where the U.S. Department of Energy recommends 16 in. It is recommended that most homes in Kentucky, West Virginia, and Ohio, Tennessee have between R-49 and R-60 of attic insulation, depending on the insulation material.
Air Sealing is a critical step when insulating an attic because sealing air leaks stops conditioned interior air from leaking into the attic. Air sealing can prevent attic mold and significantly reduce heating and cooling bills. Reed's Sprayfoam Insulation uses a variety of materials and techniques to stop this energy-wasting air leakage.
Be sure to check out our specialized SuperAttic™ System for continuous & airtight coverage.
Contact us today for information about saving money by making your attic more energy efficient. During our attic evaluation, Reed's Sprayfoam Insulation can also diagnoses the other energy issues in your home-- which may be the larger factors in your home's high utility bills and discomfort.
Reed's Can Assist With Whole-House Energy Savings!
Leaks can sprout in the attic, allowing air to seep out, causing your AC bill to rise! At Reed's, we believe comfort starts in the attic!
Reed's Sprayfoam Insulation's technicians have the knowledge to install a variety of insulation materials, including cellulose, blown-in, and spray foam. You need a local insulation contractor who can help you determine the process that will work best for your home.
Call 844-723-9296 or contact us online to schedule a home energy assessment or a Free Estimate for insulation services in Georgetown, Lexington, Charleston, as well as in and around Frankfort, Ashland, Richmond, Huntington, Paintsville, Mt. Sterling, Barboursville, and Nicholasville.
Recent Attic Insulation Jobs