Basement Wall Insulation in Lexington, Charleston & Johnson City
Basements are generally damp, moldy, and smelly. In many cases, the basements aren't even suitable to store something let alone using as a living space. Sometimes basements leak and cause moisture, however, typically moisture forms in the basement because of the temperature difference between the cold walls and warm air in the house. The moisture formation has the potential of being the perfect breeding ground for molds and creating a foul odor. Therefore to prevent moisture, molds, and foul odor, it's very important to insulate your basement wall.
Contact Reed's Spray Foam Insulation to schedule an inspection if you are considering insulation for your basement walls. We are your local trusted insulation contractor Georgetown, Lexington, Charleston, Adams, and nearby Kentucky, West Virginia, and Ohio, Tennessee.
Why Business/Homeowners Choose Reed's Spray Foam
Free Inspection of Basement to Correct Insulation Problems
Green & Efficient Air Sealing & Insulation
Increased Comfort & Consistent Temperatures in Your Basement
Top Reputation for Craftsmanship & Minimal Disruption
Reed's Basement Wall Insulation Service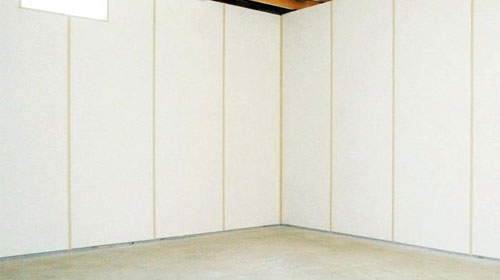 We insulate your basement wall with rigid foam insulation, which is best for your basement's concrete walls. Rigid foam wall insulation doesn't absorb water or be damaged by it, unlike fiberglass batts. Moreover, the rigid foam doesn't compress, fall out of place, or lose R-value.
We recommend Basement to Beautiful® wall insulation. These innovative panels are created with inorganic materials so that never support the growth of mold, mildew, or rot. The system is designed to attach directly to your basement walls. The studs are integrated with the foam and do not touch the concrete basement walls through the foam. Each panel comes with built-in wiring channels and necessary steel flanges for attaching the wallboard.
Benefits of Insulating Basement Walls
Improved comfort in the basement and in the upstairs space too.
No more mold & mildew problems in the basement.
Stop unwanted air infiltration that brings in the cold winter air.
Lower heating & cooling costs.
Basement becomes usable as additional living space.
Contact Reed's Spray Foam Insulation to Schedule a Free Inspection
Reed's Spray Foam Insulation is your local expert at insulation. We inspect your basement without any cost and assess your insulation problems. We provide you with wall insulation for your basement and help prevent moisture, molds, and foul odor. If you are interested in our basement insulation, give us a call at 844-723-9296 or Contact us online for a spray foam consultation and Free Estimate. We serve customers in Apple Grove, Hiltons, Bevinsville, Raven, and other cities in West Virginia, Ohio, and Kentucky, Tennessee.