Commercial Roofing Systems Near Charleston, Lexington, Georgetown & Johnson City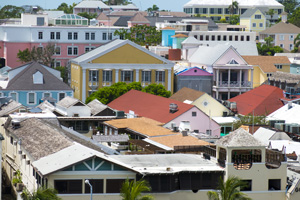 Which roof is right? Because there are many different materials available for commercial roofing, it's important to deal with a knowledgeable roofing contractor who can explain the pros and cons of different materials.
There's good news and bad news about commercial roofing. First, the good: Today there's an amazing selection of commercial roofing materials and techniques available, providing building owners with excellent options for commercial roof replacement, reroofing and new roof installation. 
The bad news is that this variety of commercial roofing options can make it very difficult to select the right roofing treatment for your commercial building. Adding to the confusion are the different acronyms used to describe various roofing types: SPF, TPO, EPDM, etc. However, there's no need to worry. If you want to make sure you've got the right type of commercial roofing, you've come to the right place. Reed's Sprayfoam Insulation will help you select a roofing or reroofing treatment that suits your building and your budget.
If you are in need of commercial roof repair, replacement or new roof installation, contact us to schedule a free estimate today! We provide quality services for commercial roofing systems in Lexington, Charleston, Georgetown, Johnson City and throughout the surrounding area.
Before & After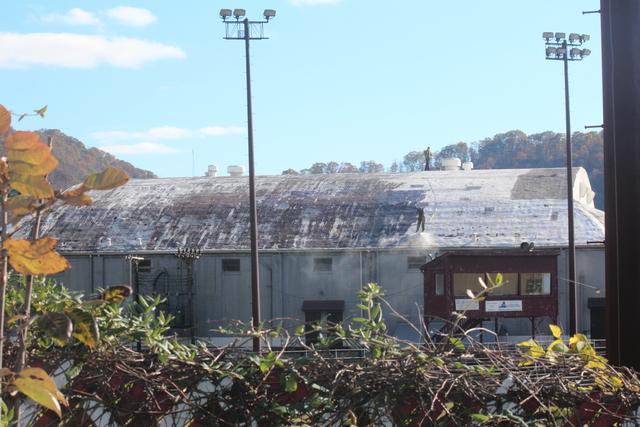 Before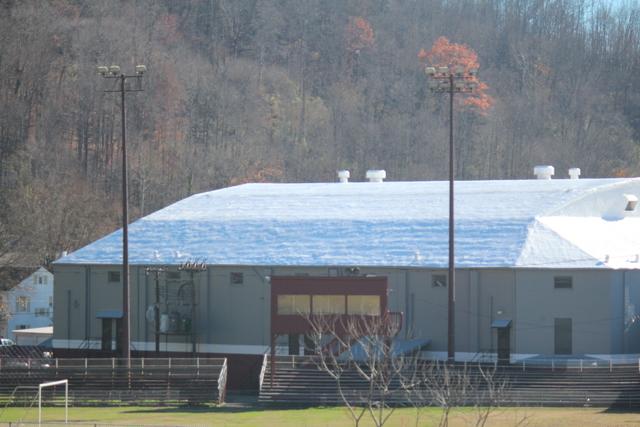 After
Williamson Fieldhouse Renovation Project, Williamson, WV
We Are Experienced in Many Roofing Types, Techniques & Materials!
Commercial roofing is sometimes described by the type of roof on the building: flat, low slope, shed and steep slope, for example. In other cases, roofing is described by the installation technique – such as "built-up roofing," "standing-seam roofing," "single-membrane roofing" and "torch-down roofing." More frequently, roofing is described simply by the material that's being installed. Here are brief descriptions of the main commercial roofing materials being used today:
Metal Roofing includes factory-made panels and flashing profiles, as well as roofing panels that are cut and formed at the building site. When installed on a sloped roof, metal roofing offers the benefits of energy efficiency (lower heat gain during warm, sunny weather) and low maintenance.
SPF (Spray Polyurethane Foam) Roofing is a popular roofing option for flat and low-slope roofs. Applied with spray equipment, an SPF roof provides a seamless roof covering that can go over an existing roof or over new construction. SPF roofing is popular because it eliminates the need for most types of roof flashing and it also functions as roof insulation, lowering the building's heating and cooling costs.
EPDM Roofing is sometimes referred to as "rubber roofing" because this roofing membrane material (technically known as ethylene propylene diene monomer) is black and flexible like a rubber inner tube. EPDM roofing can be installed on flat and low-slope roofs. Seams between adjacent EPDM sheets and metal flashing elements are typically sealed with special adhesive.
TPO (Thermoplastic Polyolefin) Roofing is a single-membrane system, just like EPDM roofing. Installed in large rolls, TPO can be installed with mechanical fasteners or by fusing seams with heat. The white TPO material used most often does a good job of reflecting solar radiation, which helps to reduce the demand for air conditioning in hot weather.
Modified Bitumen Roofing is applied in rolls that are usually heated with a torch to seal seams and adhere the asphaltic material to the substrate and to flashing details. The popularity of more modern single-membrane systems (EPDM & TPO) has reduced the demand for modified bitumen roofing.
Asphalt Shingle Roofing will always be popular. Plenty of commercial buildings with sloped roofs depend on asphalt shingles for weather protection. This roofing option is among the most affordable, and gives building owners many shingle styles and colors to choose from.
The expert roofers at Reed's Sprayfoam Insulation are trained and certified to work with many different types of commercial roofing systems in Richmond, Ashland, Frankfort, Barboursville, Huntington, Paintsville, Mt. Sterling, Charleston, Lexington, Georgetown, Johnson City and nearby. We provide commercial roofing services like roof repair, maintenance and roof replacement to ensure that your commercial building is properly protected. Call us at 844-723-9296 or send us an email to schedule an appointment today!