Cut Energy Cost throughout Lexington, Georgetown & Johnson City
The U.S. Department of Energy has given an estimate that 56% of the energy used in your home goes to Heating Ventilation and Air Conditioning or in other words your HVAC system. Now nearly 40% of the energy is lost because of air leaks, gaps, and holes in your home. Since your heating and cooling system have a big effect on your utility bills, losing your home energy can make the system run for longer hours leading to energy bills unnecessarily high and wastage of valuable resources.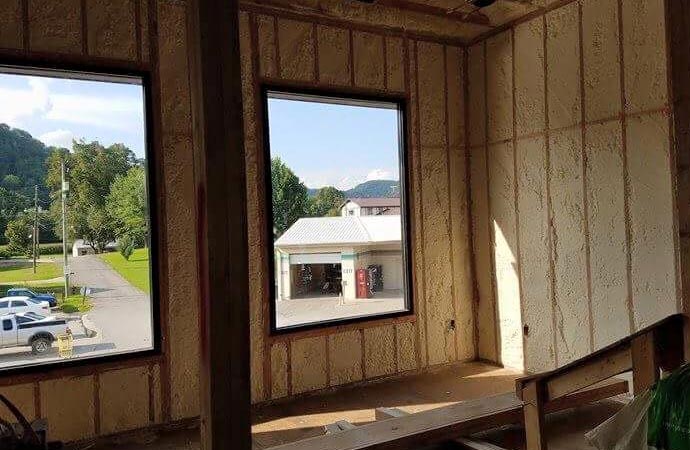 If you are living in Georgetown, Lexington, Charleston, Bevinsville, Raven, Johnson City, and nearby cities in Kentucky, West Virginia, and Ohio, Tennessee, and are suffering from high energy costs contact Reed's Sprayfoam Insulation. We are your local home insulation specialists, providing you the best spray foam insulation to help you in air sealing.
Give us a call at 844-723-9296 or Contact us online. We can also provide you a home energy audit service where our experts will assess and help you in understanding the full picture of your home's energy usage, and determine where your home is losing energy and how you can make your home more efficient and comfortable.
How Spray Foam Insulation Cuts Energy Cost in Georgetown
Spray foam air-seals and insulates at the same time. It is able to expand and fill in the gaps and cracks making it an ideal air-sealing material. Additionally, it stays in place since it is super-adhesive. In the case of other insulations such as fiberglass and cellulose insulation, moisture can still soak its way through, whereas, spray foam stops it cold. Its closed-cell structure means that water can't migrate from one tiny cell or bubble to a neighboring one. In the end, you get a warmer home during the winter and a cooler home in the summer, and the usage of HVAC units and utility bills gets reduced.
Make Your Energy Efficient with Reed's Spray Foam Insulation
At Reed's Spray Foam Insulation we inspect your building without any cost and assess your insulation problems. We provide you with spray foam insulation for both residential and commercial property and help prevent heat to enter or escape from your building.
We offer
Free Inspection to Correct Insulation Problems
Green & Efficient Air Sealing & Insulation
Increased Comfort & Consistent Temperatures in Your Building
Top Reputation for Craftsmanship & Minimal Disruption
Give us a call at 844-723-9296 or Contact us online for a consultation and Free Estimate. We serve customers in Adams, Grayson, Panther, Hallie, Apple Grove, Hiltons, and their surrounding cities in Kentucky, West Virginia, and Ohio, Tennessee.