Reed's Sprayfoam Insulation Before & After Photos
---
Damp & Moldy Crawlspace Renovation in Ripley, WV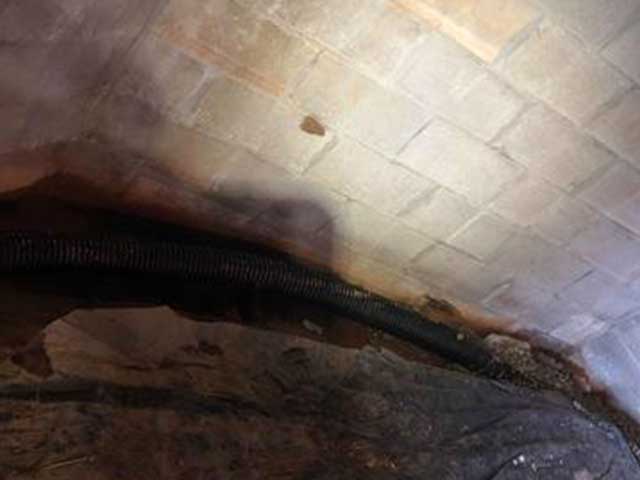 Before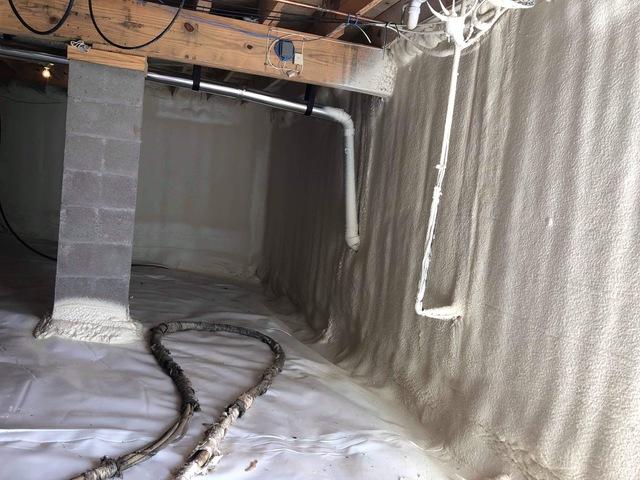 After
This homeowner was experiencing cold drafts and dampness in the home and reached out to us for assistance. We found that the root problem was coming from the crawlspace. Our crew was able to provide multiple services to not only insulate the home from drafts, but to upgrade the crawlspace and prevent any further issues.
We sprayed mold treatment on all wood services. Dug trenches, laid pipe and installed a sump pump to remove water seeping into the crawlspace area. Laid down 20 mil cord reinforced liner over the entire crawlspace and sealed it at every seam. Sprayed a class II vapor barrier closed cell foam to the walls and around all edges of the liner which created a complete crawlspace encapsulation. We also installed a dehumidifier and a radon detection system.
This upgrade to this crawlspace not only solved the issue with the cold drafts and dampness in the home, it has also made the home more energy efficient and has provided a warmer more desirable environment.
Crawlspace Encapsulation-Portsmouth, OH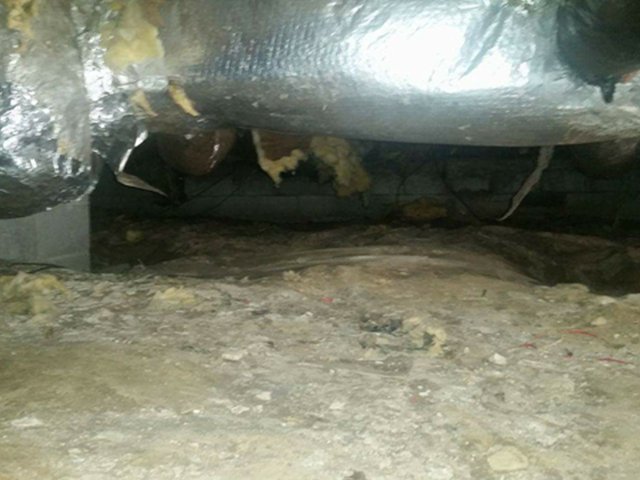 Before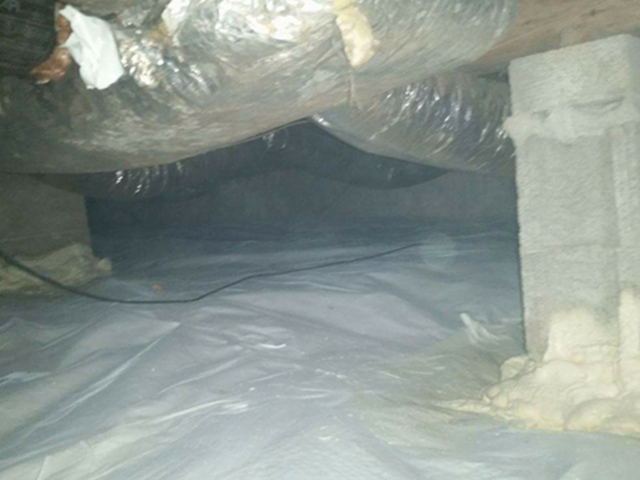 After
Most homes have a bad crawlspace. By "bad" we mean stinky, bug infested, cold, humid, and dirty. Vented crawlspaces leak warm and cool air. This creates high humidity levels and condensation. Old fiberglass insulation starts to sag from the subfloor, making it useless, and it will eventually mold. Reed's Sprayfoam Insulation has the solution to this problem with a Cleanspace Encapsulation System! In this project, Reed's Sprayfoam Insulation crew will apply a thick, tear resistant Cleanspace liner to the dirt floor, and then install spray foam insulation to the perimeter walls and around block columns, sealing off the space. The result is a clean, comfortable area that will lead to warmer floors, lower humidity levels, and savings on energy costs in the future!
Crawlspace Renovation, Proctorville OH
Before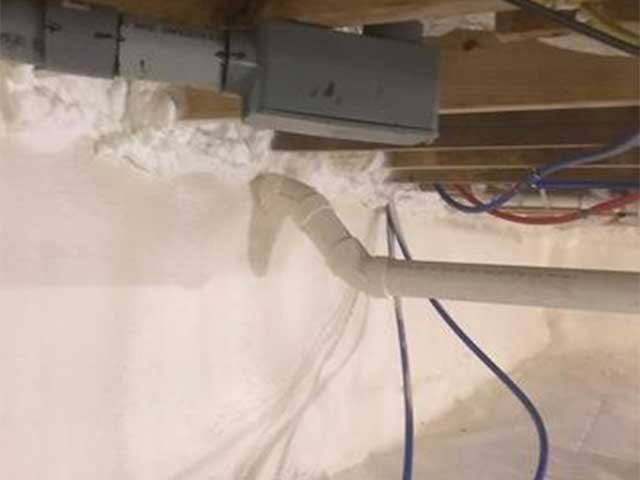 After
The crawlspace beneath a home can lead to many problems within the house, and this is an area that is overlooked when the homeowner starts trying to find solutions. This home suffered from several problems including energy loss, dampness, and dry rotting of clothing in closets - all of which were traced to the improperly sealed and high humidity of the crawlspace. Reeds Sprayfoam Insulation crew did a complete renovation of the crawlspace to make this home warm and energy-efficient again.
Our crew removed and disposed of all insulation from the subfloor. After the insulation was removed they performed mold removal and treatment of all mold-like bacteria found.
The earth of the crawlspace was sealed with a liner made of a 12-mil 3-ply sandwich of high and low-density polyethylene with polyester-cord reinforcement. The liner is treated with an antimicrobial finish that protects against mold and mildew growth on or under the liner.
A crawlspace encapsulation access door was installed and sealed into the crawlspace encapsulation.
The rim joist was insulated to seal all air leaks in the rim joist area
The foundation walls were insulated to create a continuous seal to the liner. All foundation and crawl space vents were sealed.
A high-efficiency dehumidifier was installed in the crawlspace.
Crawlspace Renovation in Ona, WV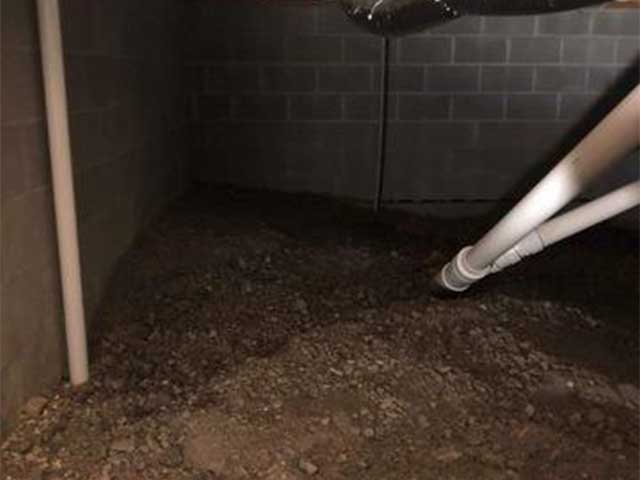 Before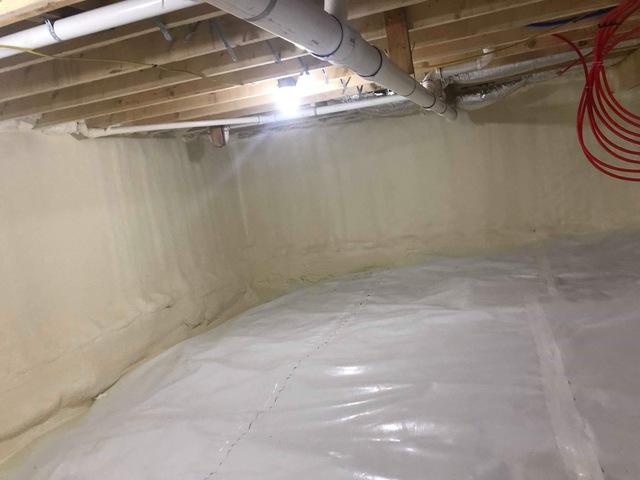 After
Are you terrified to go under your house in your crawlspace? Let Reeds Sprayfoam Insulation turn your crawlspace into a clean, airtight, comfortable space that you can be proud of. We will cover the ground with a cleanspace liner, sealed at every seam; then apply a vapor barrier close cell foam around the band board and rim joists, down the block, sealing up all crawlpace vents down onto the cleanpace liner. This creates a crawlspace that is completely sealed off from all outside elements, creating a crawlspace that is not only clean and airtight, but is also easy to see around.
Roof Deck on Flat Metal Roof in Greenup, KY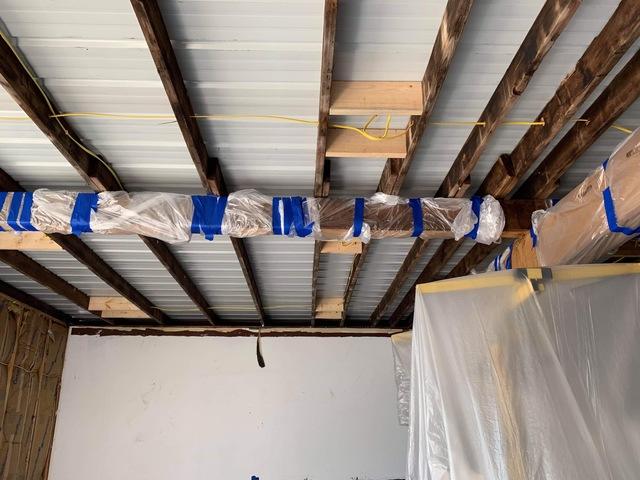 Before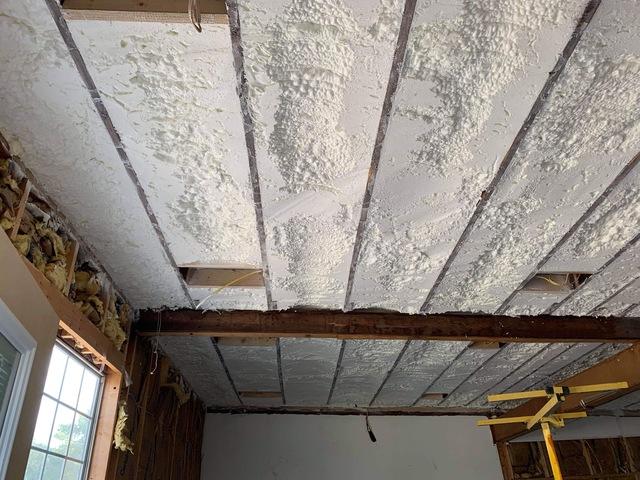 After
Sprayfoam is an excellent choice for insulating a flat metal roof. Sprayfoam forms an integral bond with the metal surface and conforms to the irregular surface to provide an effective air seal, helping to keep the room comfortable year-round.